Sri Swami Madhavananda World Peace Council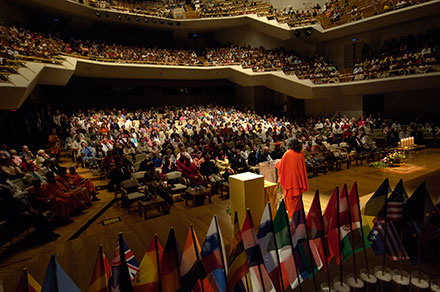 The Sri Swami Madhavananda World Peace Council was founded by His Holiness Mahamandaleshwar Paramhans Swami Maheshwarananda in commemoration of his beloved master, His Holiness Dharmsamrat Paramhans Sri Swami Madhavanandaji (1923-2003). The Council is an NGO (non-governmental organisation), and a humanitarian and charitable society that pursues the betterment of humanity's welfare.
Its aim is to advance unity and peace by disseminating the messages of Mahatma Gandhiji "Be the Change You Want to See" and Sri Swami Madhavanandaji "One in All and All in One".
One of the Council's central aims is to support international forums for dialogue between individuals, nations, cultures and religions on the topics of peace, ethics, spirituality, education, health, youth and environmental sustainability.
Sri Swami Madhavananda World Peace Council endorses the UN Sustainable Development Goals (SDGs) and the Earth Charter as fundamental and necessary principles on our path to a just, sustainable, and peaceful global society.
In July 2012 the Council was granted Special Consultative Status with the United Nations Economic and Social Council (ECOSOC).