World Peace Summit - Brno, Czech Republic, 2004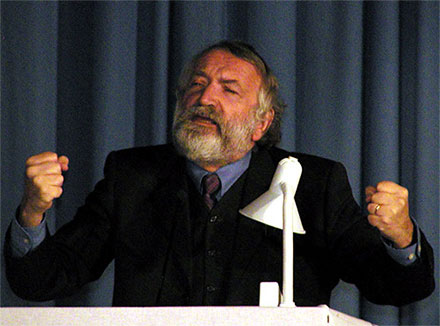 Rabbi Awraham Soetendorp from the Earth Charter Commission
and World Union of Progressive Judaism
Brno, Czech Republic, 2004
World peace can only become a reality when all people rise above national boundaries, politics, religion and ideologies. This World Peace Summit has given hope to strengthen our resolve to replace the culture of war by the culture of peace.

Brno Resolution, 2004
"Yoga in Daily Life" World Peace Summit and the message of Mahatma Gandhi were held in Brno in December in 2004 in the memory of His Holiness Dharmsamrat Paramhans Swami Madhavanandaji. More than 2000 participants from Europe and the rest of the world gathered around Mahatma Ghandi's peace message "Be the change you want to see" for similar reasons. They wanted to inspire a dialogue on world peace through tolerance, respect and understanding among religions, nations and cultures, to strengthen the will to live together in peace regardless of national borders, religious and cultural differences, to awaken the compassion towards all creatures, as well as to promote and support the UN Millennium Development Goals.