GYÖR, July 4 2019
On the occasion of 40 years of Yoga in Daily Life in Hungary, 70 years of diplomatic relations between India and Hungary and the 150 year birth anniversary of Mahatma Gandhiji, a Sri Swami Madhavananda World Peace Council Conference was organized at the University of Györ Széchenyi István Egyetem.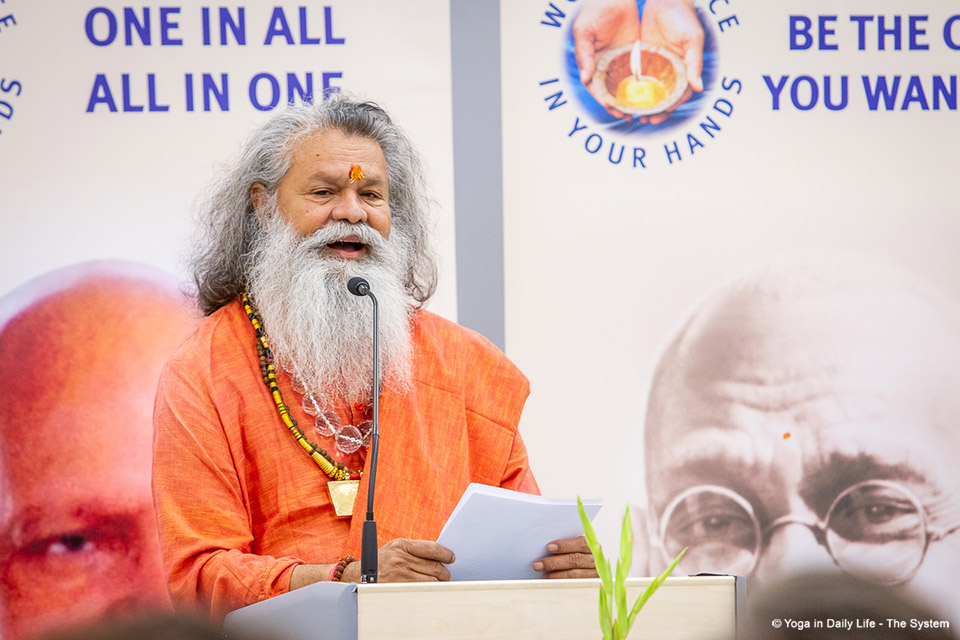 Inaugurated by SSMWPC President His Holiness Paramhans Sri Swami Maheshwaranandaji (Vishwaguruji), Yoga in Daily Life Scientific System founder and author, a conference was hosted by Györ University Rector Dr Péter Földesi.
More than 200 delegates from 18 countries were addressed by chief guest of honor His Excellency Ambassador of India to Hungary Dr Kumar Tuhinji; as well as respected guests: Dr Swapnil Kothariji, General Secretary of Madhya Pradesh Congress and Chancellor of Renaissance University Indore, India; Dr Ferenc Dancs, Deputy State Secretary, Ministry of Foreign Affairs and Trade, Hungary; Hon. Róbert Balázs Simon, Vice Chairman to the Hungarian Parliamentary Standing Committee on Culture and Member of Parliament for the City of Györ; Mr Zoltán Németh, President of the General Assembly, Györ-Moson-Sopron County Council; Dr Dávid Fekete, Deputy Mayor of Györ Municipality; and respected Mr Károly Kovács, Special Advisor from the Yoga in Daily Life Hungarian National Center.
Rector Dr Péter Földesi congratulated Vishwaguruji on the 40th Anniversary of the initiation of the system Yoga in Daily Life in Hungary, as well as for the Yoga Ratna (Jewel of Yoga) Award received from the All-Party Parliamentary Group (APPC) at the British Parliament in London, on the occasion of the International Day of Yoga, celebrated just 10 days ago. He also outlined that, "considering our present dynamic internationalization process, we sincerely hope that India will provide a continuing and expanding source for the recruitment of applicants. I would also like to express our immense gratitude to Vishwaguruji for his own most generous contributions to the building up of the Indian community at Széchenyi István University."
Mr Károly Kovács from Yoga in Daily Life Hungary presented 40 years of spreading of Yoga in Daily Life under Vishwaguruji's guidance in Hungary. On this special occasion, he reminded the audience that Vishwaguruji "has made the acquaintance of two presidents of Hungary. He granted an audience on two occasions to President Árpád Göncz. He met President János Áder for the first time in 2012, at the United Nations Rio+20 Conference. The President invited Vishwaguruji to the Tajik-Hungarian Water Initiative Conference".
In the words of His Excellency Dr Kumar Tuhinji, "the contributions of Yoga in Daily Life in promoting Yoga, as well as the life values associated with it, are indeed praiseworthy. The value of Yoga has now been recognized all over the world; what has been noteworthy with Yoga in Daily Life's approach is the manner in which the profound philosophy behind Yoga has been made available in a simple manner to its students and disciples." His Excellency also outlined the 150th birth anniversary of Mahatma Gandhi, "who led the peaceful struggle for India's independence in 1947. Gandhiji, popularly known as 'Mahatma', was one of the greatest voices in history for the cause of peace, justice, equality, dignity, and sustainability. The teachings and thoughts of Mahatma Gandhi are as relevant today as these were during his lifetime."
"Hungary is particularly proud of being among the first countries who established diplomatic relations with independent India 70 years ago. The shared fundamental principles like democracy and the rule of law, combined with the long and rich history of cultural and economic ties, provided us with an exceptionally solid basis to build excellent bilateral ties. Hungary and India have a long history of co-operation dating back to the late 19th and early 20th century when a score of Hungarian orientalists visited India and Gurudev Rabindranath Tagore visited Hungary in return," stated Dr Ferenc Dancs.
Dr Swapnil Kothariji spoke on the 'Seven Social Sins' which were highlighted and denounced by Mahatma Gandhiji:
Politics without principles
Wealth without work
Commerce without morality
Education without character
Pleasure without conscience
Science without humanity
Worship without sacrifice
He presented to a distinguished audience what may be, but need not be, the modern signs of those particular social sins. Dr Kothariji also thanked Vishwaguruji for guidance and fruitful cooperation.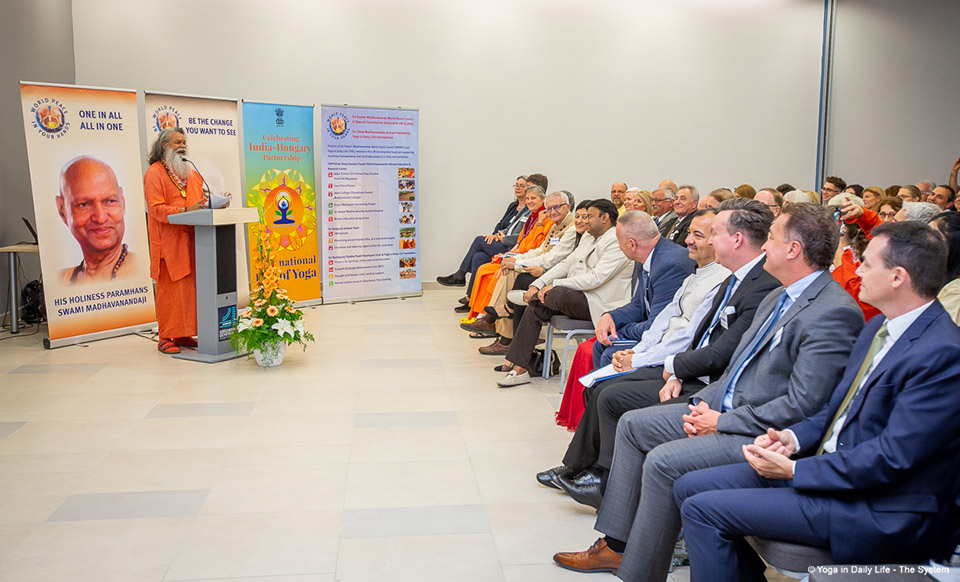 His Holiness Paramhans Sri Swami Maheshwaranandaji addressed the international audience with congratulations and words of thankfulness to Hungarian citizens for spreading and practicing regularly Yoga in Daily Life for the past 40 years, with such dedication. Vishwaguruji kindly suggested to further "practice with discipline simple Yoga exercises, pranayamas, a little concentration and consume only sattvic (pure, healthy) food" and he outlined how millions around the world have become vegetarians and nowadays vegans also due to the continuous endeavor of Yoga in Daily Life globally.
Vishwaguruji thanked all dignitaries attedning the conference and praised Indian Prime Minister Modiji's activities in spreading the knowledge and wisdom of genuine Yoga in India and around the world by initiating the proclaimation of 21st June as an annual International Day of Yoga in the United Nations in 2014. Vishwaguruji thanked Rector Dr Földesi for hosting the international WPC Conference and dedicated "prayers for blessings for University students to spread the light around the world".