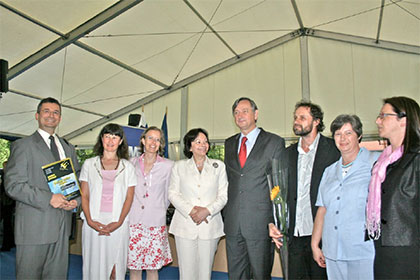 Instructors who are working on Slovenian "Yoga in Prison" project, representatives of the Yoga Union of Slovenia with the president of the Republic of Slovenia dr. Danilo Türk and his wife
Brdo, Slovenia – June 11th, 2009
The Yoga Union of Slovenia has been presented with a special award on 11th June 2009 at Brdo near Kranj in the framework of the competition titled »The Best Voluntary Project of the Year«, organized by the National Youth Council of Slovenia.
The award was presented by the patron of the project, the President of the Republic of Slovenia, Dr Danilo Türk, at the presentation of awards to the best volunteers and to the best volunteer projects in 2008. The "Yoga in Prison" programme was initiated by the founder of the Sri Madhavananda World Peace Council, His Holiness Mahamandaleshwar Paramhans Swami Mahesharananda and is being organized in several countries. In Slovenia it has been implemented for several years in two prison camps: a women's prison camp at Ig and a men's prison camp at Dob. The programme is run by specially trained Yoga in Daily Life teachers with years of experience in yoga.
Prisoners can relax physically and psychically during the exercise, get active and do something beneficial for their health, while a special aspect of yoga exercise is breaking with the monotony of prison life and showing a positive attitude towards the world. The organizers are happy with the participants' response. They emphasize that it is necessary to be aware that this target group has a very low motivation.
As there is a general attitude of rejection towards prisoners in Slovenia, there are very few programmes of this kind. The organizers plan to expand the programme to all prison camps in Slovenia, as the "Yoga in Prison" programme adds variety and quality to prison life.