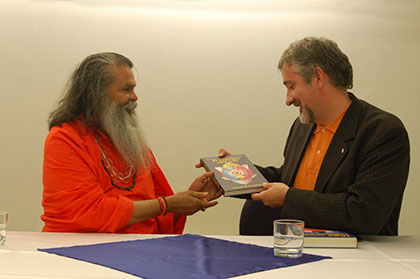 His Holiness Swamiji with Vice Mayor of Debrecen, Mr. János Halász
9th June 2009
His Holiness Paramhans Swami Maheshwaranandaji, a founder of the Sri Swami Madhavananda World Peace Council visited Debrecen, Hungary for a weekend seminar. In the prestigious hall that is the second largest conference hall in Hungary 1200 people gathered to listen his lecture. This public lecture was a part of Swamiji's Peace Tour in East Europe with a special topic that reached many people during the time of global crisis. The title of the lecture was Stress in the world and in the human – How yoga can help?
His Holiness Swamiji was received and asked for the lecture by Vice Mayor of Debrecen, János Halász on behalf of the Government of the City.