Rijeka, Croatia 2 October 2016
An International Day of Non-Violence celebration was organised by Yoga in Daily Life, the Indian Embassy in Croatia, and the City of Rijeka, with a Forum on Non-violence, and planting of a Peace Tree in the city center. More than a hundred citizens of Rijeka, and guests from other parts of Croatia and neighboring countries, had the opportunity to participate in an exceptionally lively and inspirational conference.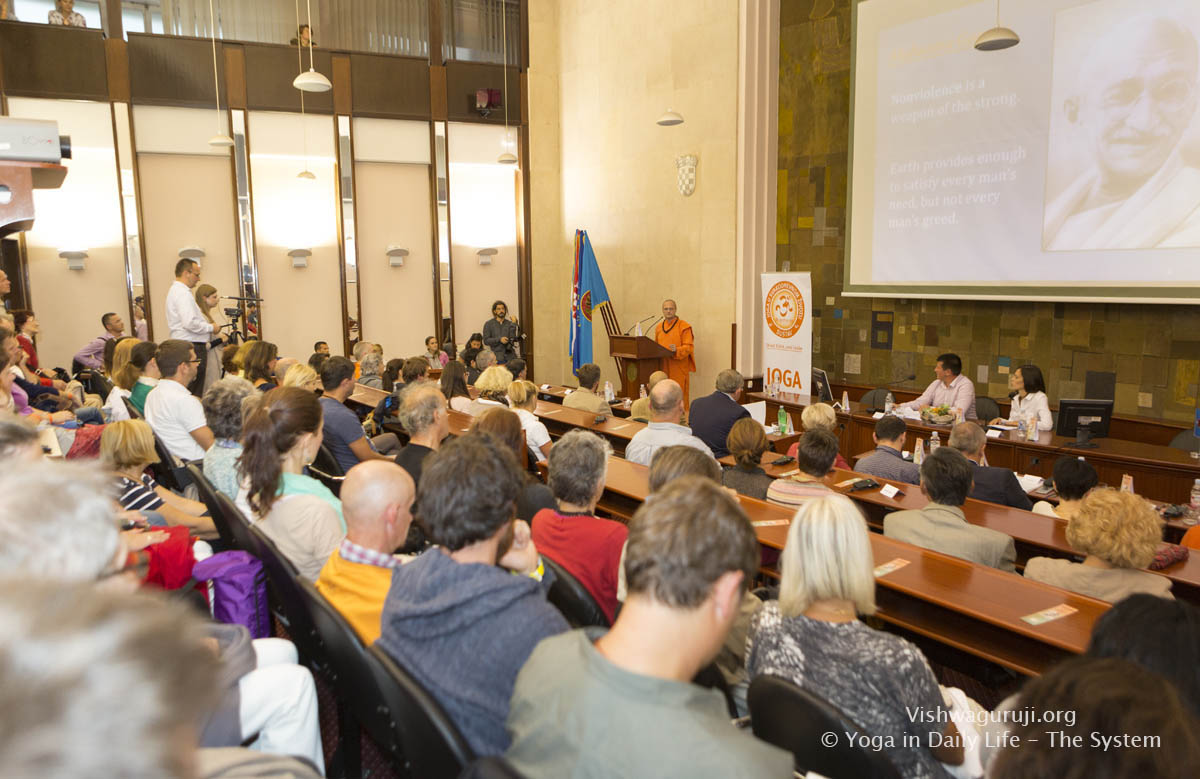 The first speaker at the forum, Indian Ambassador to Croatia, His Excellency Sandeep Kumar, highlighted that non-violence is a universal concept which unites all religions and nations, and is for the whole of Creation. He stated that this is the true message of Mahatma Gandhi.
The Mayor of Rijeka, Mr. Vojko Obersnel, expressed his wishes for Rijeka to be a city where diversity and non-violence are respected, not only between humans, but also towards all living beings, in order to be on a path of true humanity and civilization. He concluded that Mahatma Gandhi is a true inspiration in striving for peace – great in his modesty, brilliant in his simplicity, but also steady on his message that the way to peace being without violence, is necessary for the survival of mankind.
Dr. Manfred Stepponat, president of the YIDL Fellowship, greeted all the participants on behalf of the Sri Swami Madhavananda World Peace Council and International Fellowship of Yoga in Daily Life. He highlighted the several decades of work by SSMWPC and YIDL in raising awareness of the importance of non-violence and peace, as inspired by the founder of both organizations, Vishwaguru Paramhans Swami Maheshwarananda.
Mahamandaleshwar Swami Vivekpuri, president of the Hindu Society of Croatia, explained that non-violence is the weapon of the strong, "because only that one who has emotional and spiritual strength in themself, has security, peace and inner satisfaction, and is without any need for violence - which is the product of fear and insecurity."
He also pointed out that non-violence is a fundamental principle and message of both Yoga and Sanatan Dharma (Hinduism) - ahimsa paramo dharma - Ahimsa (non-violence) is the supreme duty. Swami Vivekpuriji stated that this principle is the essence of all 'commandments' of God as taught by all the world's religions, and he clarified that every change comes from within ourself towards our surroundings.
Further views on the subject of non-violence followed, from aspects of Islam and Judaism, sociology, and also the role of non-violence in the health and well-being of every individual. This variety of perspectives were presented by Mrs. Vivian Špacapan, representative of the Jewish community in Rijeka; Mr. Dinko Tamarut, president of the Antifascists of Primorje-Gorski Kotar County; Prof. Vedran Obućina, political scientist and publicist; Mr. Mladen Zlamalik, president of Croatian-Indian Friendship Society; Mrs. Olena Stublija, representative of Croatian-Russian Friendship Society; and Mr. Jadran Mandekić, leader of the project 'Rijeka – healthy city'.
Letters from the head Imam of the Islamic community in Rijeka, Mr. Hajrudin ef. Mujkanović, and Vice Rector of University of Rijeka, Prof. Snježana Prijić Samaržija, were also read to the audience. And to conclude the Forum, Prof. Kornelija Mrnjaus, Head of the Department of Education, Faculty of Philosophy in Rijeka, gave an overview of non-violence as an important aspect of educating children and young people.
The event was featured by many news outlets of the Croatian media, showing the recognition of non-violence as an important factor to counter aggression in the world we live in.
This program dedicated to non-violence was crowned by a joint planting of a linden tree, in Delta Park, next to the Liberty monument in the city center. Mother nature blessed the Peace Tree, and all those present, with her greatest blessing – heavy rain. In Slavic tradition, the linden is a holy tree, a symbol of the Divine Mother, whose nine days of worship (Navaratri Festival), according to Sanatan Dharma, began on 1 October. All the participants enjoyed the blessings of this special moment in Rijeka.