Sunday 2nd October 2016
International Day of Non-Violence as declared by United Nations in honour of Mahatma Gandhi's Birth Anniversary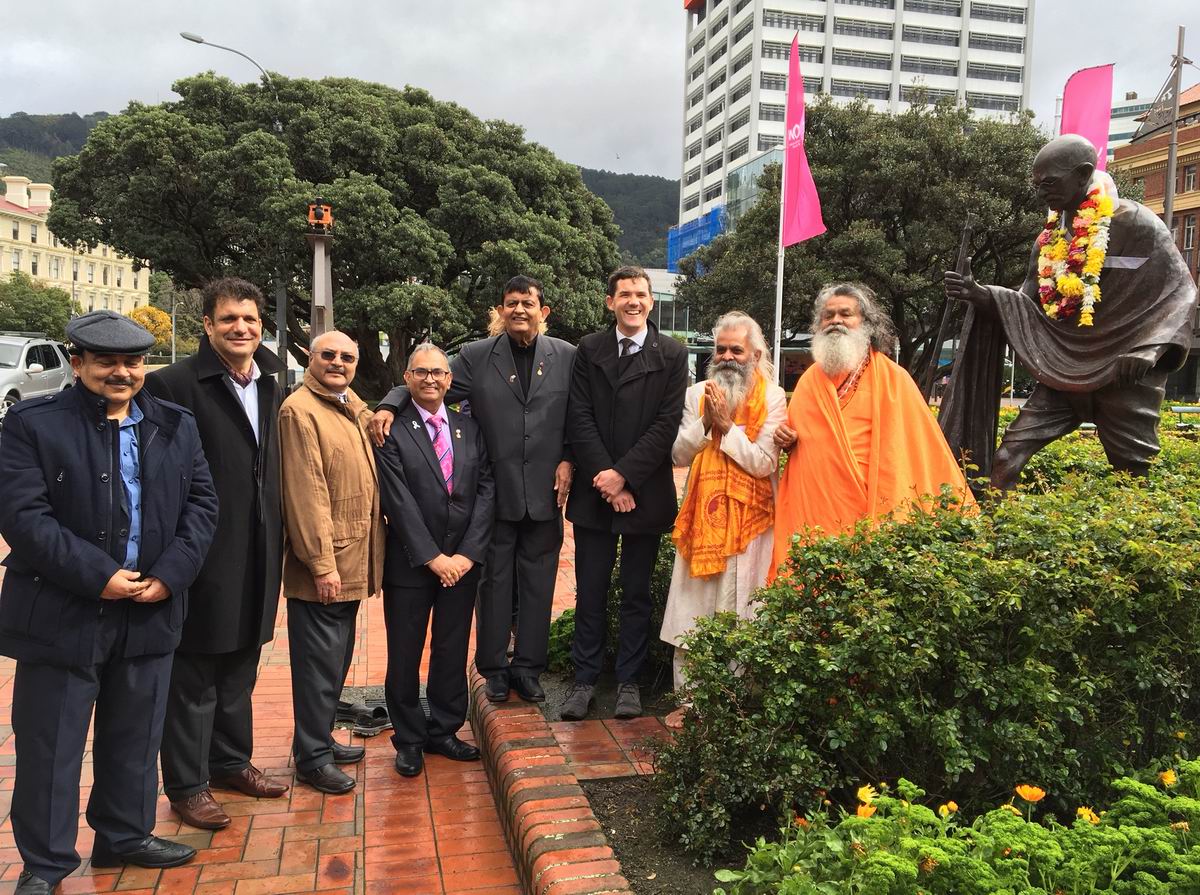 Vishwaguru Mahamandaleshwar Paramhans Swami Maheshwarananda was invited by the Pujya Mahatma Gandhi Commemoration Committee (PMGBCC) to participate in the commemoration for Mahatma Gandhi's Birthday and observance of International Day of Non-Violence, in Wellington, New Zealand, during his World Peace Tour.
The ceremonial puja was performed by His Holiness Vishwaguruji, in the presence of His Excellency Sanjiv Kohli, High Commissioner of India to New Zealand; Mr Justin Lester, Deputy Mayor of Wellington; Mr Ian McKinnon, former Deputy Mayor of Wellington; Sri Joshiji, pandit from the Wellington Hindu Temple; and assembled members of Yoga in Daily Life Society of New Zealand.
Vishwaguruji adorned the Mahatma Gandhi statue with a flower mala and placed a tilak on the forehead, whilst everyone called out to the glory of Mahatma Gandhi.
The gathering then continued in the Yoga in Daily Life ashram in central Wellington, where Ian McKinnon officially hosted the program and presided over the event.
The Lighting of the Lamp ceremony was performed by His Holiness Vishwaguruji, His Excellency Sanjiv Kohli, Deputy Mayor Mr Lester, and Naginbhai Neil Ghelabhai Patel, Honorary Chair of the PMGBCC and Vice President of YIDL New Zealand, with the chanting of mantras.
Co-organiser of the event, Naginbhaiji, welcomed all present and, acknowledging Vishwaguruji as his mentor and inspiration, he spoke of Ahimsa - non-violence - as the greatest force at the disposal of mankind.
Other dignitaries at this special ceremony included Kantibhai B Patel QSM, JP, Amritbhai Peter Rama, Ratilal Champaneri QSM, JP, Dr Sudesh Wasoori JP, and Shrimari Tarunaben Bhana, President of Wellington Indian Association.
Attendees observed two minutes of silence to reflect on the life and meaning of Mahatma Gandhiji's peace movement and influence on India and the world. Mahatma Gandhiji was born 147 years ago, in 1869.
His Excellency Sanjiv Kohli paid homage to Gandhiji and affirmed the need for all nations to rededicate themselves to his philosophy and timeless principles of truth, non-violence and tolerance.
Wellington Deputy Mayor, Justin Lester, spoke highly of the Indian community in Wellington and their contribution to the city and the timeless message of Mahatma Gandhi.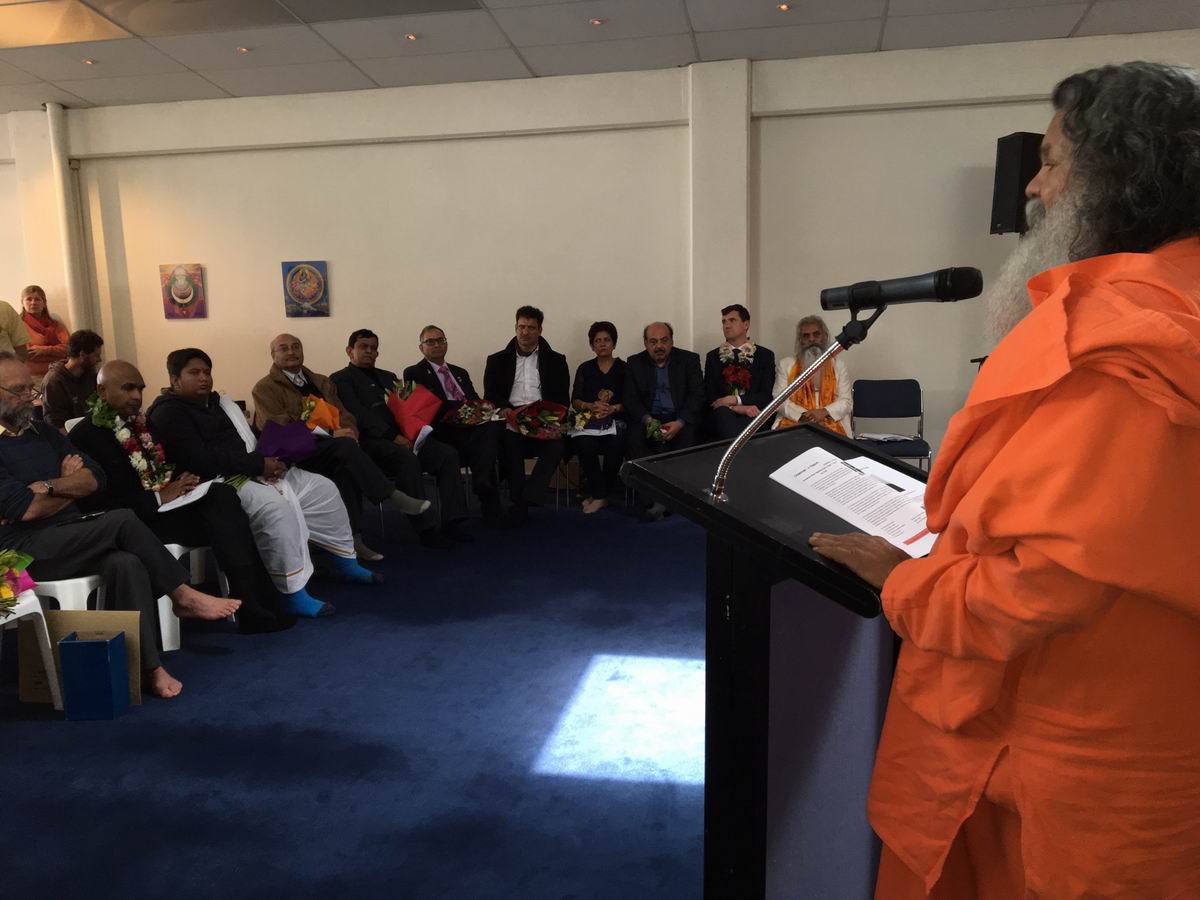 Following speeches by the dignitaries, and performances of traditional Indian music, Vishwaguruji spoke on the importance of teaching our children ethical and social morals and principles for spirituality, sustainability and world peace:
"The first Guru is the mother, to educate the children in morality and spirituality to understand what is humanity. Spiritual teachings can save the world, as humans have the highest intellect and a duty to protect all creatures and the environment. Gandhiji said, 'The whole world is one family.' The problem nowadays is that people are too materialistic.
"Gandhiji also said that Mother Earth has everything for our need, but not for our greed. People today have gone too far and that is why so many are suffering.
"As Sri Mahaprabhuji says, the only way back is to 'love each and every entity, if not more, then at least as much as we love ourselves.' And as Gandhiji said it is up to each of us to 'be the change you want to see'."
Vishwaguruji, as President of the Sri Swami Madhavananda World Peace Council, presented Naginbhaiji, on behalf of the Council, with a Sri Swami Madhavananda Peace Award for his work as an Ambassador of Non-Violence and Peace.
This special program, promoting world peace and harmony, was concluded with Blessings from Vishwaguruji and gift presentation of a commemorative t-shirt. The assembled gathering then shared a celebratory meal together.