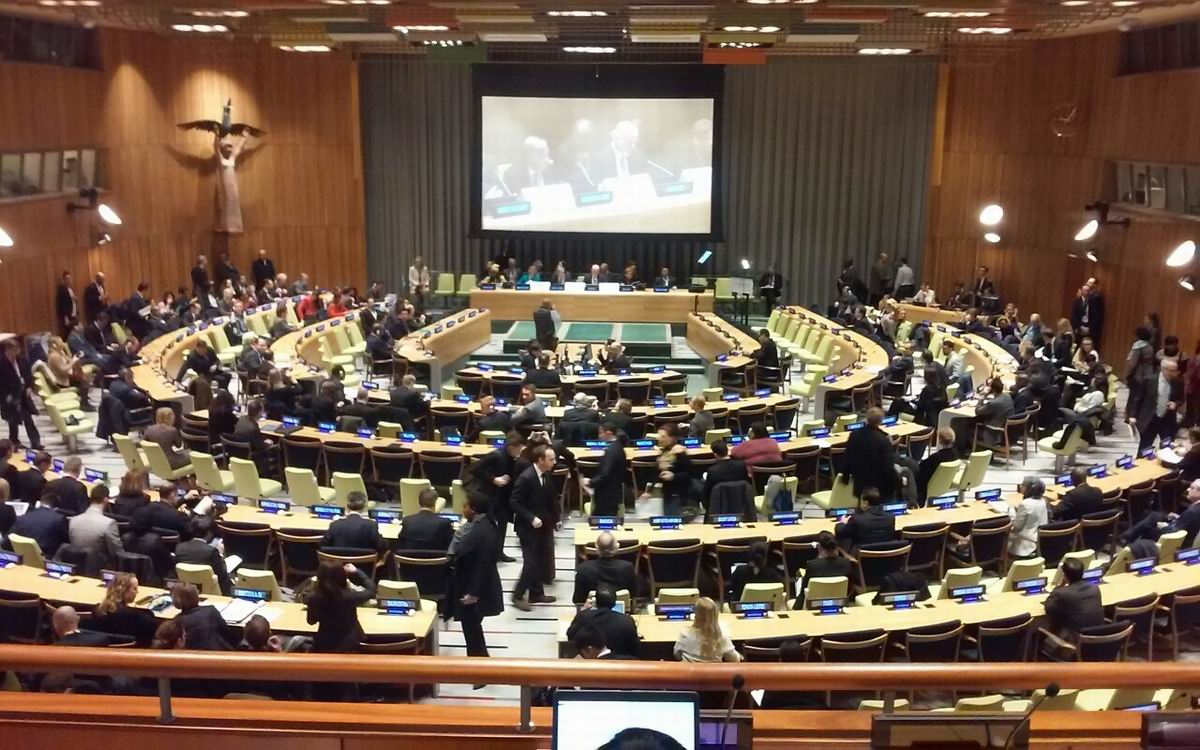 SSMWPC's General Secretary, Ms. Denis Licul (Kripadevi), plus Executive Director, Mr. Gregor Kos (Sugandpuri), and New York representative, Dr. Chandra Sukhwal, attended the High-level Dialogue about 'Building Sustainable Peace for All' on behalf of Vishwaguruji Paramhans Swami Maheshwarananda – founder and President of the NGO which is in Special Consultative Status with UN ECOSOC – at the UN Headquarters in New York, on 24 January, 2017.
Dr. Dinah Wiley (Divyapuri) and Ms. Amber Jones (Sanjivani), board members of Yoga in Daily Life USA, also an NGO in ​Special Consultative S​tatus with UN ECOSOC, and affiliated to the Yoga in Daily Life International Fellowship, overseen by Vishwaguruji, joined forces with SSMWPC representatives to reinforce Vishwaguruji's support for the UN System, for Sustainable Peace, as well as for the Global Goals.
Speakers at the High-level Dialogue, which was addressed by HE Mr. Antonio Guterres, UN Secretary-General, and HE Mr. Peter Thomson, President of the General Assembly, underlined the inter-linkages of peace building and development. Delegates further called for the strengthening of the role of the UN as the primary custodian of international peace.
"Building more effective and accountable institutions, and protecting human rights – including civil, political, economic, social and cultural rights – is investing in sustaining peace," said the Secretray General.
SSMWPC representatives attended all three afternoon workshops that followed the opening session and the interactive panel discussion. The topics for the workshops were:
Empowering women, girls and youth for peace and sustainable development.
Managing natural resources for peace and sustainable development.
Strengthening transparent, inclusive and accountable institutions for peace and sustainable development.
On the occasion of this event, Vishwaguruji noted that the SSMWPC will continue to actively support the Sustainable Development Goals (SDG), the UN's paramount conflict prevention framework programme, and will keep on initiating conferences, cross-cultural dialogues and interreligious forums, in the effort to contribute to peace building.
See also:
UN Non-Governmental Liaison Service NGLS on Facebook
http://www.un.org/pga/71/event-latest/building-sustainable-peace-for-all-synergies-between-the-2030-agenda-for-sustainable-development-and-sustaining-peace/