Vishwaguru Paramhans Swami Maheshwarananda completed his historic first visit to Cuba this week with cultural exchanges and the planting of Peace Trees. In recognition of his decades of promoting yoga and humanitarian activities, and this official visit to Cuba, the Casa de Iberoamerica in the city of Holguin awarded him a golden plaque with the symbol of the city. The award was authorized by the highest levels of the provincial government.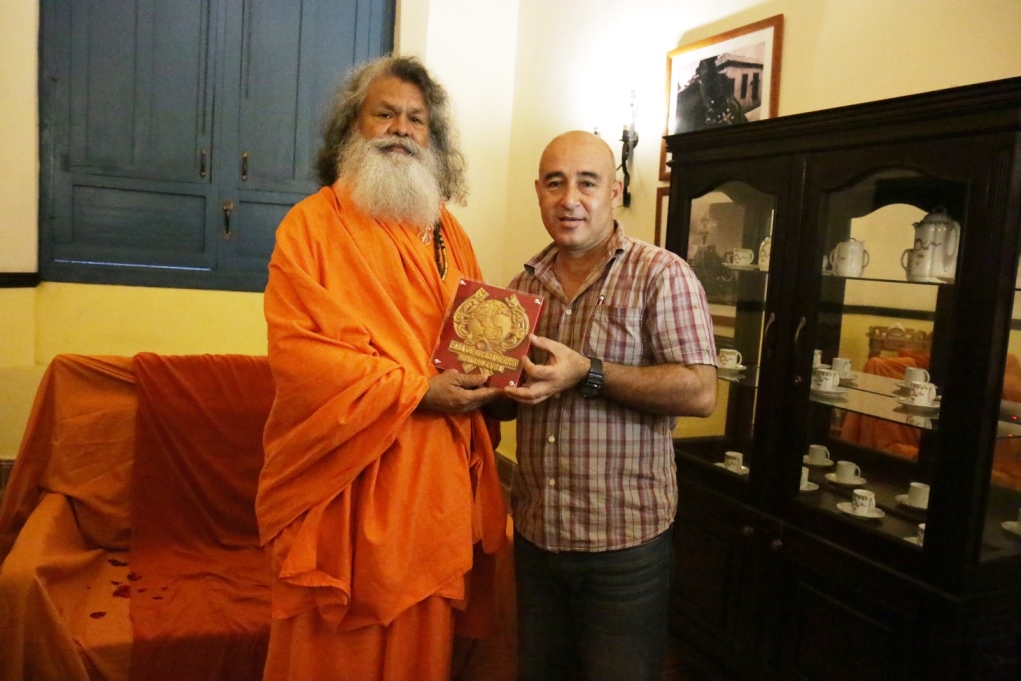 On his last day of the visit, Yoga in Daily Life (YIDL) practitioners from Cuba and several other countries joined Vishwaguruji and government officials in planting two World Peace Trees. They will serve as living symbols of peace and understanding among nations.
After the first tree planting in Playa Guardalavaca, a small town near the sea, the group celebrated a joyful outdoor satsang. Vishwaguruji talked about research into the origins of the YIDL Parampara (lineage) and his visit to the ancient Himalayan cave of Sri Alakpuruji, from whose spiritual lineage he descends.
On the same day, the city of Holguin's official gardeners assisted Vishwaguruji in planting a second Peace Tree in the botanical gardens in honor of YIDL's distinguished lineage. The yoga practitioners accompanying Vishwaguruji admired the many exotic trees and flowers, some of which were recognized as being the same as ones in India, which shares a similar climate.
The tree ceremonies followed a full day of cultural exchanges featuring an excursion to the city's highest point, the Hill of the Cross, followed by presentations of music and dance at the Casa de Iberoamerica, the cultural center that co-hosted the yoga master's program. The evening featured a variety of Cuban vocalists and musicians and a mesmerizing performance of classical Indian dances from the Bharatnatyam tradition.

The evening concluded with the audience lighting peace candles on the steps of the cultural center. Vishwaguruji's hosts joined him in reaffirming that the light of yoga, in addition to conferring benefits for health, happiness and well-being, can also serve as a channel of peace, harmony and understanding amongst people of all nations.