In 2007, with the adoption of its A/RES/61/271 resolution, the General Assembly of the United Nations reaffirmed the universal principle of non-violence and decided to observe the International Day of Non-Violence on 2 October each year. Since then, this day, which is the birthday of Mahatma Gandhi, is remembered worldwide by UN member states, state bodies, non-governmental organizations, and individuals, and dedicated to disseminating the message of non-violence.
As international NGOs, the Sri Swami Madhavananda World Peace Council (SSMWPC) and Yoga in Daily Life, under the patronage of Vishwaguruji, have celebrated the International Day of Non-Violence and honored the Satyagraha legacy of Mahatma Gandhi every year since 2007, by organizing different programs across five continents.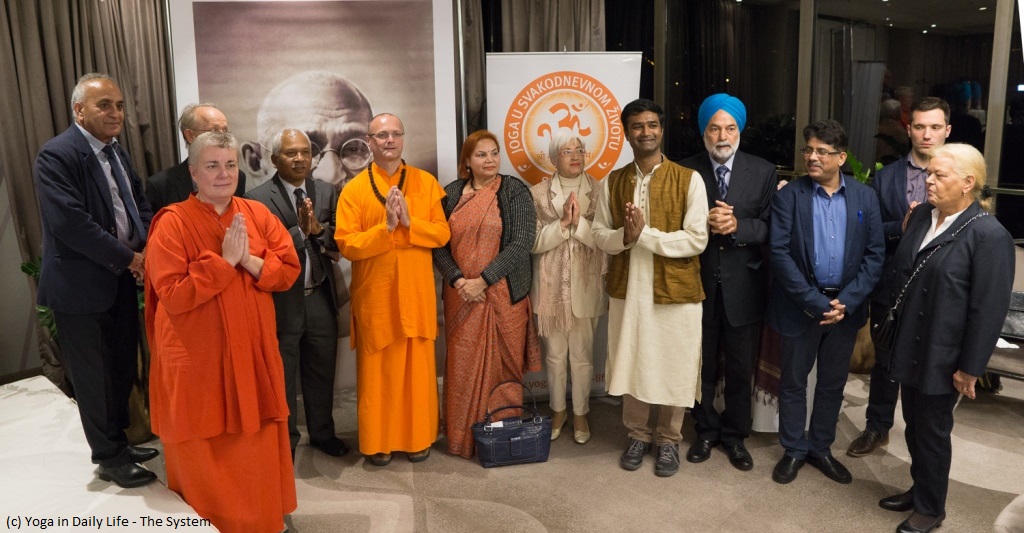 In 2018, the 2nd of October marked the launch of a year-long celebration of the 150th birthday anniversary of Mahatma Gandhi, as proclaimed by the Indian Government.
Our commemoration begun with social & cultural programs: an event titled "Non-Violence is Weapon of the Strong" was organized by the Zagreb Association of Yoga in Daily Life along with the Indian Embassy in Westin Hotel, Zagreb, Croatia; and in Wellington, New Zealand, the Pujaya Mahatma Gandhi Birthday Commemoration Committee with the co-operation of Wellington City Council, the High Commission of India and the Yoga in Daily Life Society (New Zealand), held a successful event beside the Gandhi statue in front of Wellington Railway Station.
Social & cultural programs co-organized with Indian governmental institutions were followed by various programs of free yoga classes, meditation, satsangs and prayers, dedicated to peace and non-violence at YIDL centers and World Peace Trees in Australia, China, Hungary, Slovakia and the Czech Republic.