Vishwaguruji receives Yoga Ratna Award at House of Commons in London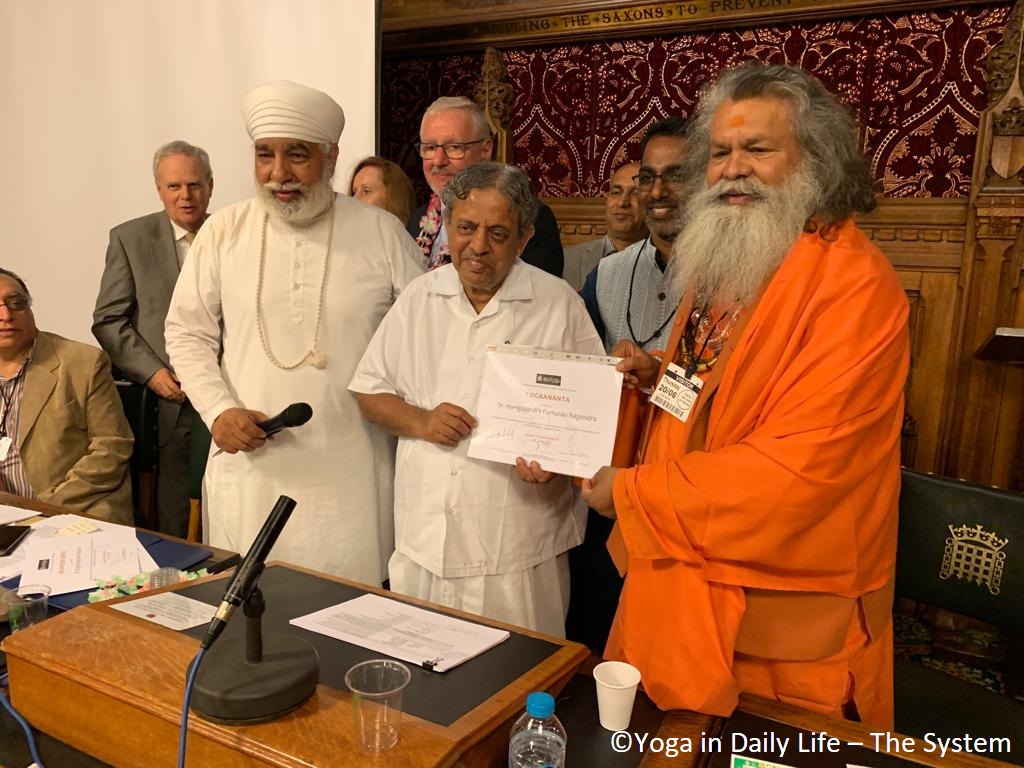 London, 20 June 2019
On the invitation of All Party Parliamentary Group (APPG) Indian Traditional Sciences, Yoga in Daily Life Scientific System author & founder Bharat Gaurav Paramhans Sri Swami Maheshwaranandaji – Vishwaguruji – from Mahanirvani Akhara, attended as chief guest of honor at the United Nations 5th International Day of Yoga celebration in the House of Commons, London, UK.
Vishwaguruji addressed the respected audience by praising Indian Prime Minister Narendra Modi Ji for proclaiming International Day of Yoga at the United Nations, NY, in 2014. It has been celebrated worldwide each year since, with great enthusiasm, by Yoga in Daily Life disciples on all five continents. In the words of Vishwaguruji, it is that particular achievement of Narendra Modi Ji which clearly indicates the end of Kali Yuga (the age of ignorance) and the beginning of Satya Yuga: (the age of truth) "Yoga is one, it means oneness. The first words by Patanjali were 'discipline will lead to the path to the Yoga', meaning just now – don't think 'we will begin Yoga tomorrow' – no, just now, we should make a sankalpa (resolve), about what we should do."
"Humankind should become vegetarian", was the most important message of Vishwaguruji at the celebration of 5th International Yoga Day. There is no room for violence against any living creatures in the world and animals should not suffer for any pleasure of humans, namely not to be exploited for 'food'. "We should strive for healthy organic food, without poisonous pesticides, and we should protect fresh drinking water, nature and our environment", Vishwaguruji stated.
As a sign of appreciation for his 50 years dedicated spreading of ancient Indian original knowledge and wisdom of Yoga around the globe, Vishwaguruji received the Yoga Ratna (Jewel of Yoga) Award from the All-Party Parliamentary Group (APPG) at the House of Commons. Just next year – 2020 – Vishwaguruji is organizing a Grand Opening Event of the world's biggest OM symbol construction – the OM Ashram in Jadan, district Pali, Rajasthan, India. At the same time, Vishwaguruji announced he has begun with all necessary procedures for OM Ashram to entered onto the tentative list for UNESCO World Heritage Buildings.