2021 World Peace Summit: events commemorating auspicious anniversary of Sri Swami Madhavananda
An international virtual conference titled Making Peace with the Earth: Developing Trust for Future Generations was held on 10 November and further events for the 2021 World Peace Summit took place on 11 November, in commemoration of the 18th anniversary of Sri Swami Madhavananda's mahasamadhi (final liberation).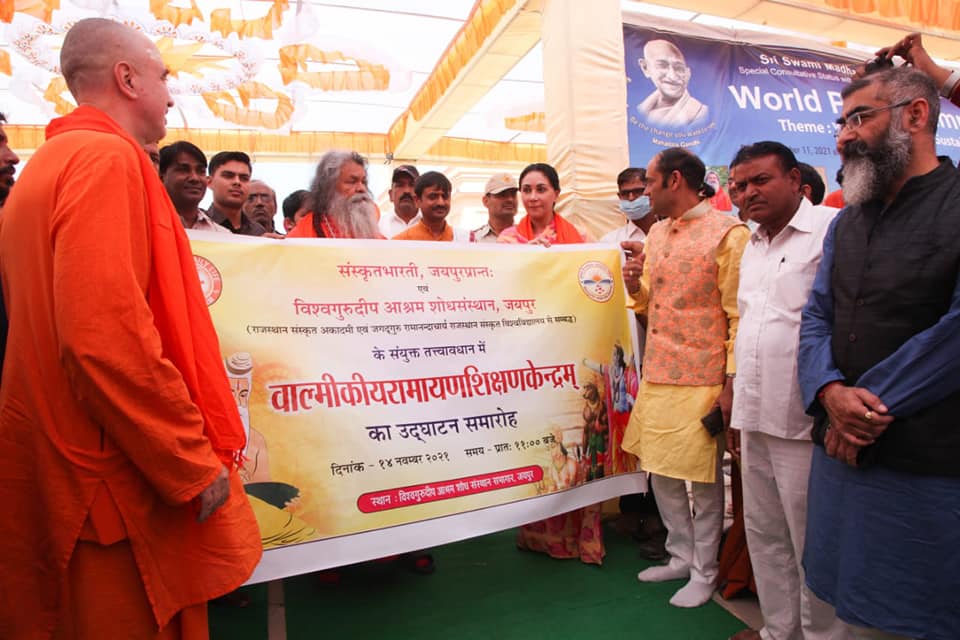 Making Peace with the Earth: virtual conference
On 10 November 2021, Sri Swami Madhavananda World Peace Council, as a non-profit humanitarian organisation for world peace in special consultative status with the United Nations, collaborated with the non-profit Yoga in Daily Life organisation, to host an online event that was attended by speakers and participants from around the globe. Spanning five time zones and four continents, this event was a featured event of the World Peace Summit 2021 and commemorated the United Nations International Year of Peace and Trust.
Moderated by respected first Director of the United Nations Academic Impact, Ramu Damodaran, who seamlessly weaved together the stories, insights, and speeches from a diverse panel of esteemed guests including Mahamandaleshwar Swami Gyaneshwarpuri, Mahamandaleshwar Swami Vivekpuri, Mahamandaleshwar Swami Jasrajpuri as well as swamis and distinguished speakers from the United States, Slovenia, the Czech Republic and India, among them Allison Silberberg, former Mayor of Alexandria, Virginia, and Bawa Jain, Founder and President of the Centre for Responsible Leadership and Secretary of the World Council of Religious Leaders.
Distinguished panels spoke on a variety of subjects related to the theme of Making Peace with the Earth: Developing Trust for Future Generations. Interesting and inspiring presentations were given on the topics:
environmental protection and animal welfare
inner peace and self-realisation
harmony among religions, cultures and nation
The speakers brought up the importance of self-reflection, selflessness, kindness, love, and a vegetarian diet, as well as inspiring stories of inter-faith harmony, action rooted in environmental consciousness, and the importance of an attitude of reverence towards Mother Earth.
The youngest member of the panel, Aryan Agarwal from India, encouraged participants to take action and gave concrete examples demonstrating that a shift in environmental consciousness must be reflected across all generations, providing an example of hope that young people can make a difference.
The hopes and wishes of organisers are that the message of Sri Madhavanandaji, "One in All and All in One", will inspire all who participated in the conference to contribute to efforts that preserve our beautiful Earth and bring people together in a spirit of kindness, mutual care and peace.
---
World Peace Summit 2021 in Bari Khatu, Rajasthan, India
On the following day, 11 November, the 2021 World Peace Summit of the Sri Swami Madhavananda World Peace Council (SSMWPC) was held at Siddha Peetha Parampara Ashram, Kachras, Bari Khatu in the Nagaur district of Rajasthan in northern India.
The theme of this international conference with numerous distinguished speakers and thousands of participants was The Wisdom of Yoga for a Sustainable Future. The conference was moderated by Kapil Agarwalji of Jaipur, Ambassador of the SSWMPC in India.
Keynote speakers were: Vishwaguruji Mahamandaleshwar Paramhans Swami Maheshwarananda, Founder and President of the SSMWPC, Mahamandaleshwar Swami Chittambaranandji Saraswati from Mumbai, Mahamandaleshwar Swami Atmanandji from Punjab, Mahamandaleshwar Swami Gyaneshwarpuriji from Jaipur, Mahant Swami Khanpuriji from Sughangarh, Her Highness Princess Diya Kumari of Jaipur, Swami Avatarpuriji from Jadan, Swapnil Kothari, Chancellor of the Renaissance University of Indore, Khyati Rathore, Climate Change Analyst at the World Bank in New York and Mangilalji Garg, Deputy Inspector, General Border Security Forces of India.
Esteemed speakers spoke about the ancient Indian science of Yoga and how it is an antidote and remedy for many of the problems that plague modern society, including climate change. A highlight of the program was Her Highness Princess Diya Kumari, who spoke about the empowerment of women and the detriment of the consumption of meat and alcohol and how these are an obstacle to health and sustainable living.
---
---
---