UN special event: 'Discourse on Peace', New York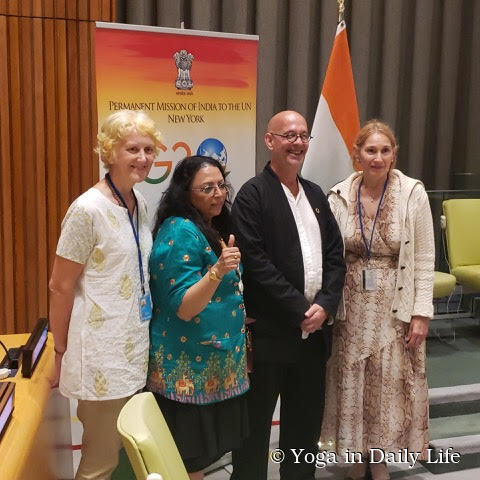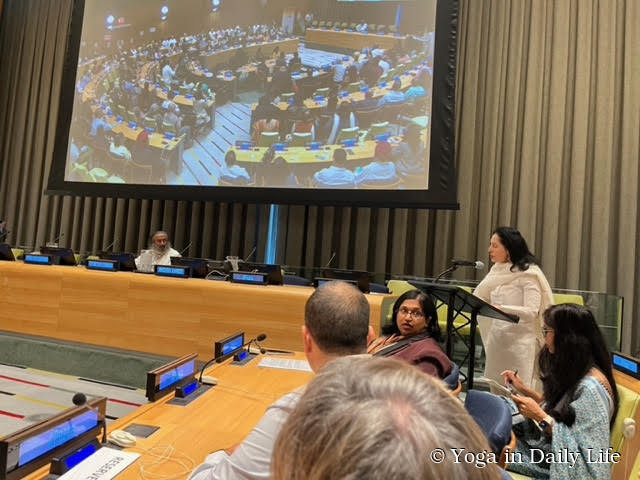 International Day of Peace special event at UN Headquarters
NEW YORK CITY: 14 September 2023
In celebration of the International Day of Peace, the Permanent Mission of India to the UN hosted a special event, 'Discourse on Peace', at the UN Trusteeship Council in New York, with keynote speaker, HH Shri Shri Ravi Shankar, founder of the Art of Living Foundation.
Representatives of the Sri Swami Madhavananda World Peace Council (SSMWPC) attended the event, together with colleagues from the International Day of Yoga Committee.
Ambassador Ruchira Kamboj and Mr Miguel Moratinos, High Representative for the United Nations Alliance of Civilizations (UNAOC), presented the opening and special remarks. The programme included a short period of meditation and a Q&A session.
Embedded in the ancient Vedic principle, vasudhaiva kutumbakam – the world is one family – this discourse on peace emphasized:
The importance of obtaining inner peace, patience, and a sense of belonging as the prerequisite for effective communication in conflict resolutions.
The necessity of including Peace Practice – breathing and meditation practices – in education.
The recommendation to switch from the currently dominant narrative of obtaining security to obtaining peace.
Increased public acknowledgement of the transformational power of Yoga in dealing with present global challenges, provides inspiration and empowerment for the Yoga in the Daily Life international community and Sri Swami Madhavananda World Peace Council, in support of ongoing engagement.
---
Messages
See words of encouragement and messages of peace, inspired by the work and teachings of Vishwaguruji Paramhans Swami Maheshwarananda, founder of Yoga in Daily Life International and Sri Swami Madhavananda World Peace Council, to mark the occasions of International Day of Peace (21 September) and International Day of Non-Violence (2 October):